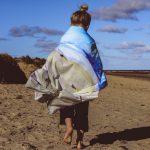 "So many ways to play!"
Let children use their imagination with beautiful hand-illustrated play cloths to inspire fun & learning through self-directed play. With hundreds of uses, from small world play to den building, from dressing up to wrapping presents... Dance with them, tie them on a stick, wear them as a cape... you can even hang them on the wall!
Possibly one of the most remarkable (and magical) ability in children is their imagination, and your child's mind is built to learn, explore, discover and create.
Open-ended resources engage your child's imagination, enhance their social and emotional intelligence and can foster independent play from an early age and the cloths have been designed to do just that.
What will they lay on it? Will they wear it? Drape it over furniture to build a den? Wrap a doll in it?
Sit back and watch in wonder. There are no rules.
The cloths are printed with reative dyes as they are one the most eco friendly ways to dye fabrics. They contain no heavy metals or other known toxic substances and do not need mordants. The fixation or absorption rate of low-impact dyes is at least 70%, creating less waste water runoff than conventional dyeing processes. They are applied at relatively low temperatures (30ºC compared to the 100ºC needed for direct dyes), saving energy, and require controlled amounts of salt and alkali. dye cycle is shorter than it is for other dye processes, meaning less water, salt and chemicals are needed.
Sorry, there is no product in this collection